Canadian Circular Economy Summit second-day digest
Article subtitle

Following the second and final day of the first Canadian Circular Economy Summit, co-hosted by the Circular Innovation Council and Circular Economy Leadership Canada (CELC) we summarize the key findings from the sessions participated in by our Executive Director, Ramona Liberoff.  
The Canadian Circular Economy summit is co-hosted by the Circular Innovation Council and Circular Economy Leadership Canada (CELC).
Sessions participated in
Scaling Circular Economy Action in Canada (Part 2): Linking to the Global Agenda

Scaling Regional Collaboration: Seizing Circular Economy Opportunities Beyond Borders
Main summary  
Overall, the Canadian Circular Economy Summit provided a platform for insightful discussions, highlighting the challenges and opportunities associated with transitioning to a circular economy in Canada. The event emphasized the need for enhanced collaboration, proactive government engagement, and effective implementation of research findings to drive meaningful change and achieve the goals of a circular economy.
The value of peer pressure, leverage points, and targeted knowledge for collective action was emphasized during the engaging panel discussions. Notably, the need for defining standards and developing clear definitions within the circular economy framework was extensively discussed. However, it was also recognized that more focus should be given to the human element, nature, and context within the discussions, as these aspects were currently missing from industry case studies.
Research and Implementation Gap
Panels attended over day two showcased a vast and well-funded research network across Canada, with hundreds of projects. However, the prevailing challenge highlighted was the gap between research and effective implementation. Despite the extensive research efforts, it was evident that the translation of research findings into tangible actions and outcomes is not happening optimally. This raised the need for strategies to bridge the gap and ensure that research leads to impactful changes in practice.
Procurement and Government Engagement
A procurement expert emphasized the limited involvement of procurement professionals unless prompted by specific requests for proposals (RFPs). The rigid risk-based processes governing procurement restrict proactive engagement. This observation emphasized the importance of engaging with procurement communities to drive circular economy initiatives and influence procurement practices toward more sustainable outcomes. Additionally, turning governments into early adopters was identified as a crucial step, considering the procedural and formal nature of government operations.
Multidisciplinary Approaches and Industry Leadership
The summit highlighted the highly multidisciplinary nature of the challenges surrounding the circular economy. Recognizing that these challenges require collaborative solutions, one research center shared its innovative approach of launching micro-courses to activate change agents in the industry. The focus on technology-based solutions demonstrated similarities with the approach of the hosting organization. The discussion also touched upon the potential for Canada to lead as a resource producer in the circular economy, presenting a different perspective compared to resource-constrained Europe.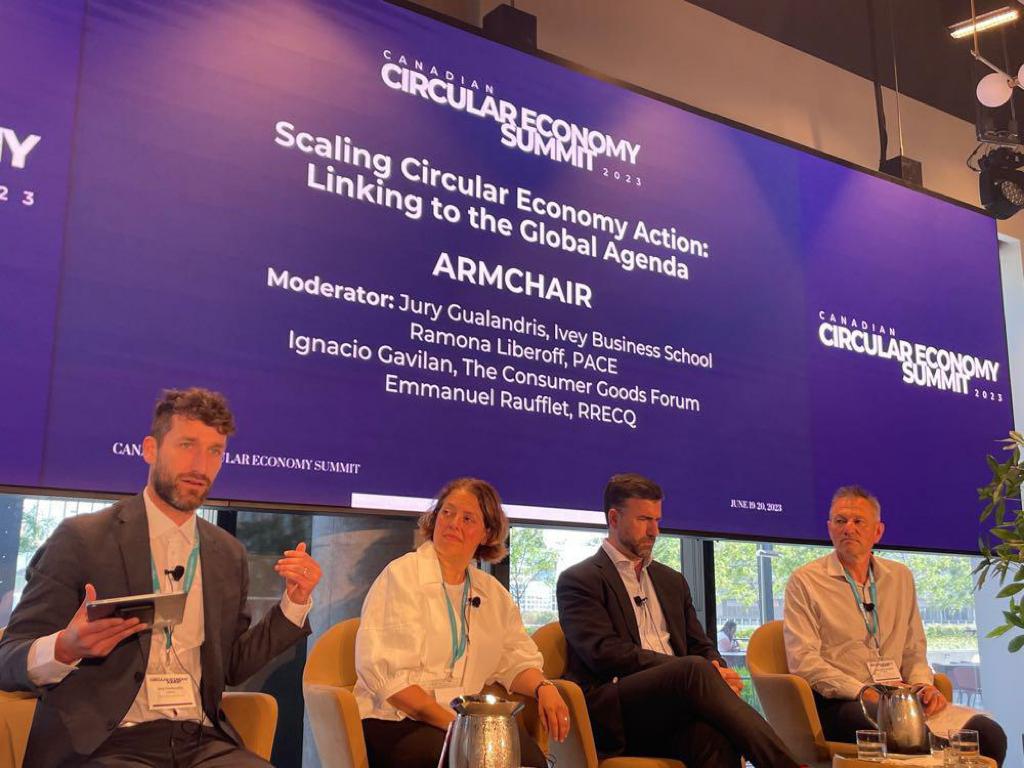 ---