Climate and Energy Summit Summary Digest – Friends of Europe: integrated thinking for a climate-resilient Europe
Article subtitle

Following three exhilarating panels and a concluding fireside conversation between Apple's Vice President of Environment, Policy, and Social Initiatives and our Executive Director, Ramona Liberoff, PACE outlines some of the key takeaways from the day.
Climate and Energy Summit: integrated thinking for a climate-resilient Europe - Friends of Europe
*For a detailed breakdown of the day's sessions see the end of this summary digest.
Main takeaways
We need to move away from a top-down approach and understand the vital importance of specific, place-based interventions.

If not properly managed, the European Green Deal could, in fact, increase inequality.

Nature is not an ideology and we must collectively work together to bring about the clean energy and digital transitions that are restorative for people, nature, and the climate.

Companies, like the Vodafone Group and Apple, are leading the way by recognizing the vital role circularity has to play across their supply chains.

The key to success is decoupling revenue from extraction.

Never before has the importance of public/private collaboration been more keenly felt. This was especially pertinent when considering financial frameworks and infrastructure implementation. The public sector must no longer regard the private sector as a contractor but rather as a collaborator holding mutually beneficial interests.  
Summary
The summit brought together influential experts dedicated to expediting Europe's shift toward sustainable industrial development. Throughout the well-structured day of sessions, political figures, representatives from non-profit organizations, and top corporate strategists engaged in vibrant discussions on the pressing challenges of the European Green Deal. The event offered a healthy blend of lively debates, punctuated by impassioned statements from both panelists and audience members, eliciting a range of responses encompassing both acceptance and resistance.
Fireside solidarity
The summit concluded with a powerful demonstration that public/private collaboration is key to making the transition a success. Apple has proven that it is possible to decouple carbon emissions from profit having recently had a 68% increase in profit accompanied by a 40% reduction in their product carbon emissions. As a leader in this journey, they have proven that it can be done. Companies like Apple have discovered the challenges and opportunities in reengineering production systems to support a circular economy.
The summit underscored the crucial role of public-private partnerships in driving circularity and biodiversity agendas. Our organization, the Platform for Accelerating the Circular Economy (PACE), carefully selects partners like Apple based on their leadership in the triple opportunity fields of decarbonization, technological advancement, and creating a better world. It is evident that pursuing decarbonization alone through technology is insufficient; a comprehensive approach that encompasses all three objectives is vital.
PACE and its partners foster collaborations along a shared vision to effectively address these interconnected challenges and advance the transition towards a sustainable future. Together, we are working towards a world where circularity, biodiversity, and a better future go hand in hand.
Fireside conversation with
Vice President of Environment, Policy, and Social Initiatives at Apple and former administrator of the United States Environmental Protection Agency - Resource: Environment - Apple
Executive Director of the Platform for Accelerating the Circular Economy (PACE)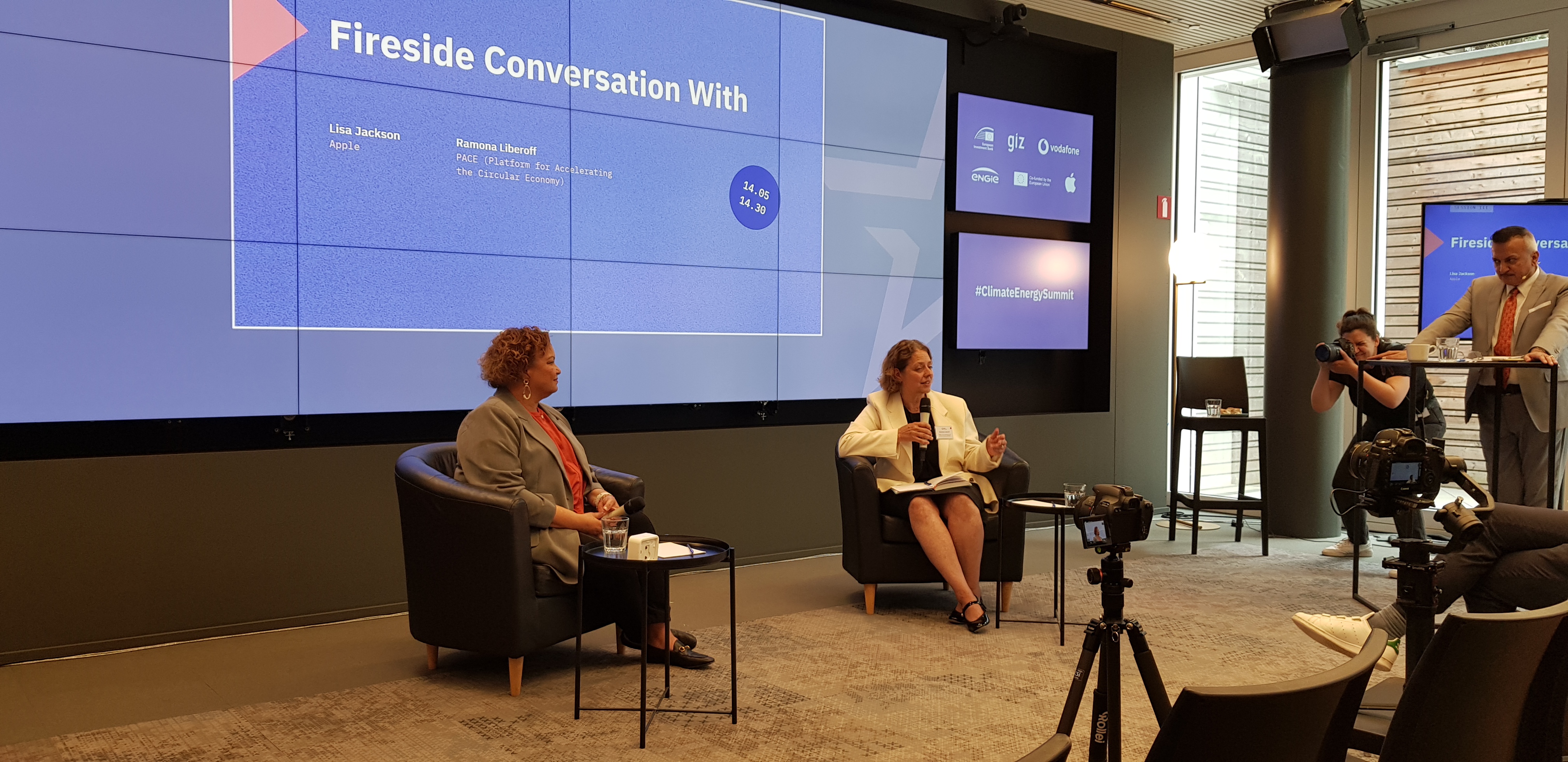 Lisa Jackson, Apple (chair left) and Ramona Liberoff (chair right) are moderated by Dharmendra Kanani
Sessions
Unleashing Europe's Green Industry Potential
Timur Gül [Head of the Energy Technology Policy (ETP) division at the International Energy Agency (IEA)]
Constance Kann [Director at the European Investment Bank (EIB)]
André Loesekrug-Pietri [Chairman and Scientific Director of the Joint European Disruptive Initiative (JEDI) and 2013 European Young Leader (EYL40)]
Pia Henrietta Moon [Co-Founder and CEO of Carbo Culture and 2023 European Young Leader (EYL40)]
A Green Deal that Works for all Europeans
Ester Asin Martinez [Director of WWF European Policy Office]
Philippe Lamberts [MEP, Co-President of the Group of the Greens/European Free Alliance]
Nicolas Schmit [European Commissioner for Jobs and Social Rights]
Jurei Yada [Programme Lead for EU Sustainable Finance at E3G]
Transforming the Energy and Climate Policy Landscape
Pierre Schellekens [Director for Energy policy: strategy and coordination ENER]
Frank Mischler [Director of the International Power-to-X Hub]
Anita Orbán [Director of Public Affairs at Vodafone Group]
Cristian Silviu Bușoi [Chair of the European Parliament Committee on Industry, Research, and Energy (ITRE)]
Claire Waysand [Executive Vice President of ENGIE]
---