PACE at Climate Week NYC
Article subtitle

Looking back at a week of critical engagement for minerals and energy
Main takeaways
Circularity was, unfortunately not a key theme at this year's Climate Week with many panels, presentations, and private meetings placing it low on the agenda. However, there were some major steps forward in the form of the launch effort for the WBCSD Global Circularity Protocol. Deloitte's Circular Food Systems was also a prominent feature on the week's circularity agenda and PACE was pleased to host representatives from both organizations at our co-hosted workshop: Circular Mineral Resilience: Collective Strategizing for North America.

While circularity was included as a feature in several presentations on critical minerals and food, there is still much work to be done to promote circularity beyond recycling to senior U.S. policymakers.

PACE has made a significant advancement in this area and was pleased to announce on Monday 18th September that the U.S. Department for State (Bureau of Oceans and International Environment and Scientific Affairs) joined our board. Our delegate member is

Dr. John Thompson

supported by

Dr. Elizabeth Nichols

. The announcement came from Under Secretary Jose W. Fernandez during his keynote address at the World Economic Forum's sustainable mineral supply summit.
Circularity should be a key lever embedded into the United Nations sustainable development goal #12: responsible consumption and production. Yet many noted that circularity was missing from a few SDG sessions while decarbonization dominated.

Chatham House

includes 550 circular economy policies in its extensive

global policy tracker

, however, at present, this only monitors data centered around municipal and electronic waste generation and collection and not demand reduction and recovery policy, indicative of a lack of policy initiatives and understanding that circularity extends beyond waste management.

Furthermore, policies are not generally coordinated at the multilateral level and are inhibited by roadblocks such as standards harmonization, markets, pricing, and taxation reform (such as a shift in approach to taxing resources instead of labor).

We are entering the age of infrastructure, and a high priority will be to equip resource-rich countries with processing power to expand the scope of this stage into the hands of local communities. With this will come jobs and opportunities to restore balance to the global south. Financing in these areas still remains a prominent challenge and balancing development, and national interests, at pace will be something to overcome.

The resource issue remains geopolitically sensitive. Resource-rich countries will need more than reassurance from parties in the global north with vested interests in their material assets that the authority to decide what to do with these assets lies in their hands. Considerations must include people-centered priorities as well as ensuring minimal environmental devastation.

PACE Executive Director, Ramona Liberoff, highlighted the need to restore trust through responsible actions by the global north and that circularity can ease the extractive pressure and demonstrate leadership.

In the food sector, there were some key considerations. To successfully transform each stage in the value chain for dominant crops there needs to be aligned funding. Smallholder farmers cannot be expected to carry the burden of this transformation considering the scale of the task at hand. 95% of all emissions lie within the value chain and a coordinated, aligned approach to funding initiatives at scale must be met.

Pre-competitive collaboration was promoted throughout the week, particularly as a lever to acceleration aided by open-source innovation.
Circular Mineral Resilience: Collective Strategizing for North America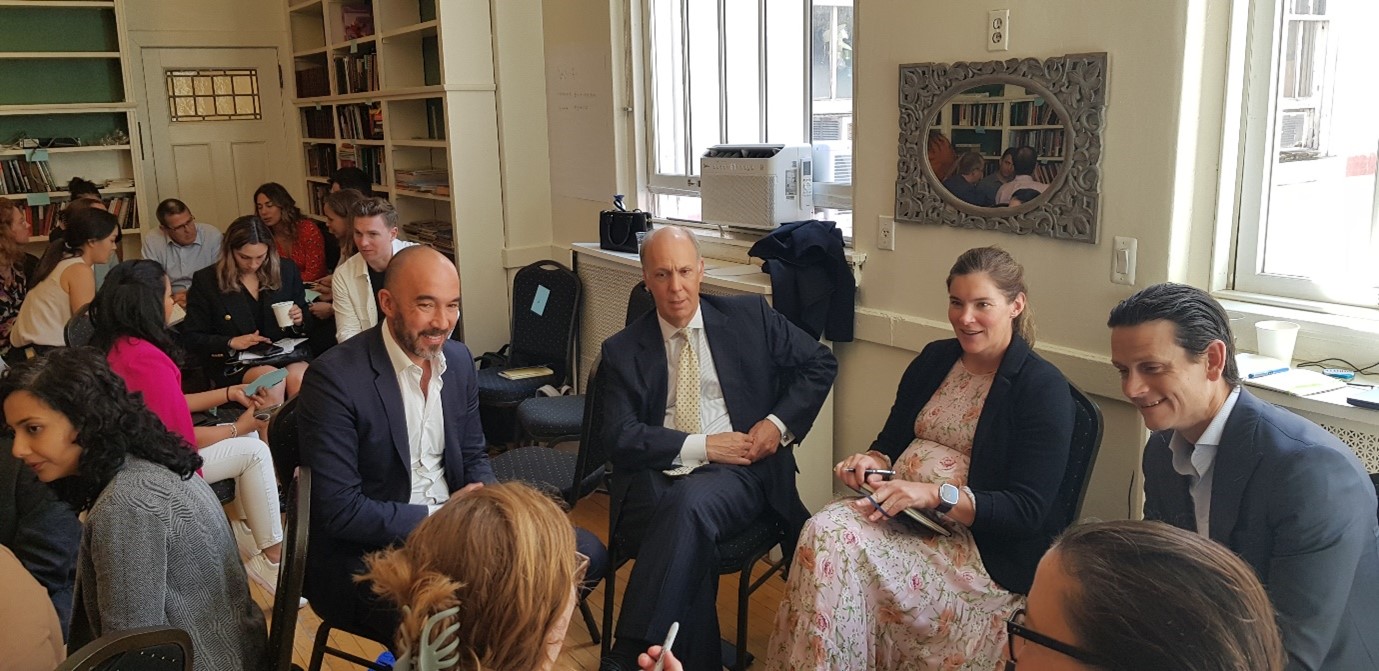 PACE was delighted to co-host a systems change workshop with Apple, Closed Loop Partners, Silverado Policy Accelerator, and the U.S. State Department. The workshop was facilitated by Reos Partners and held at the New York Society for Ethical Culture in Manhattan. Represented were:
Commission for Environmental Cooperation
International Council on Mining and Metals
National Renewable Energy Laboratory
Smart Prosperity Institute Canada
United Nations Environment Programme
PACE was joined by social impact agency, WRTHY, whom we are partnering with to heighten mineral circularity higher up the policy, innovation, and investment agendas for North America.
The purpose of the workshop was to bring together a focused group of representatives from parties with expertise in mineral requirements for the clean energy transition. Ensuring a diverse set of voices was present was paramount and we included participants from the policy, investment, and innovation spheres to establish connectivity between these often siloed lenses.
In small groups of 6, our guests worked to identify the underlying systemic mental and physical models that are keeping North America in a linear, extractive mindset. Bringing these findings back to the wider group, we provided participants with the opportunity to jointly construct key messages they would take to policymakers, investors, and innovators to help shift the prevailing mindset and accelerate circularity as a short-term solution for recapturing mineral resources from post-extracted sources such as electronic waste, mining tailings, and heavy-duty equipment (for example).
PACE will be sharing the findings of this workshop in an upcoming feature article.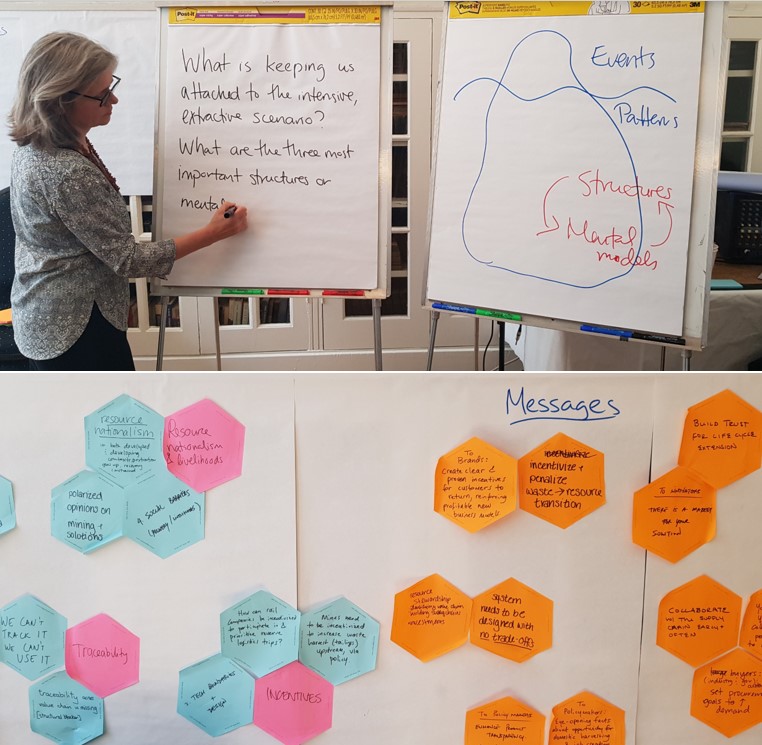 Wider comments
Mineral Circularity
Climate Week NYC was an energetic week of panels, exhibitions, workshops, dinners, cocktails, networking, and deep-dive presentations. PACE was there to socialize our work on mineral circularity and to co-host our workshop (see above). Alongside this PACE was represented at numerous events throughout the week and it was clear that circularity has a large role to play in both the energy transition and across food systems. Mineral circularity is significantly overlooked in its capacity to help alleviate pressure off the immediate demand for virgin raw materials for renewable technologies such as electric vehicles, wind turbines, and solar panels. As identified by the Energy Transitions Commission in their recent report Material and Resource Requirements for the Energy Transition, 'There is no fundamental shortage of any of the raw materials to support a global transition to a net-zero economy: geological resources exceed the total projected cumulative demand from 2022-50 for all key materials, whether arising from the energy transition or other sectors.
However, even with strong action on innovation and recycling, scaling supply rapidly enough to meet demand growth between now and 2030 will be challenging for some metals, and mining will need to expand significantly.' Innovation, demand reduction (such as the size of electric vehicles and demand for primary materials), collaboration, and recycling will all be crucial enablers. Mineral circularity identifies secondary material resources and minimizes primary demand through new resource streams.
This is a crucial lever in the race towards net zero and a fully sustainable, renewable global energy system by 2050. However, while circularity more broadly was present throughout the week's events, the emphasis tended to be on recycling exclusively, consumer-end product solutions, such as packaging materials, and informed consumer decision-making. Mineral circularity is overlooked but essential if we are to meet the goals outlined by the Paris Agreement. PACE board members, Apple, and the U.S. Department of State, are both committed to elevating this issue within the United States and PACE is delighted to be working with both partners on this topic.
Systems Change: How it is done
"You think that because you understand "one" that you must therefore understand "two" because one and one make two. But you forget that you must also understand "and." – Donella Meadows.
Siloed thinking is a barrier in many spheres of life. Specialisms have their rightful place, but when specialisms fail to connect with complementary partners, this is a major barrier to progress. Policy, investment, and innovation are three such specialisms. Everyone who understands the necessary sector levers required to move us forward into a sustainable future knows that these three pillars are fundamental to the journey. And yet, despite there being a substantial focus on all three individually rarely were they connected.
PACE believes in fostering synergy among various disciplines, starting with individuals who possess the capacity and drive to instigate meaningful change.
This is why PACE partnered with Reos to facilitate a cross-pollinating workshop where sector leaders and experts brought perspectives from policy, investment, and innovation and connected with each other to start solving a shared issue. If the conversations remain siloed then the solutions remain siloed and to truly change a system, we must not focus on individual solutions. The circular economy is a systems property and not a product property.
Conclusion
Climate Week 2023 was a valuable endeavor for PACE with many engaging discussions and points of connection to follow up on. Mineral circularity should be high on the agenda of North American policymakers because, without it, we cannot aim to stream the available mineral resources into the right hands in the right amount of time to successfully transition to fully renewable global energy systems by 2050. Mineral demand is only projected to increase over the coming decades and mineral circularity holds the key to plugging the short-term supply gap. North America is a powerful and important actor within the global system and PACE will be working with Wrthy to elevate this awareness onto the agendas of key decision-makers ahead of Davos 2024.  
---