Capacity Building Workshop on Circular Food Systems for Rwanda
Introduction 
To enhance knowledge and skills among stakeholders working on the Circular Food Systems program in Rwanda, a three-day capacity-building workshop was held in the Musanze district.  
Several different learning techniques were used to engage the participants in meaningful conversations and ensure the impact of their contributions was felt. The discussions focused on the Circular Economy for Food Systems; concepts, principles, opportunities, and best practices. 
The workshop included a field trip to Golden Insect Ltd, a 'pioneer center' developing fertilizer and compost from food loss and waste (among other innovations), as well as presentations, panel discussions, and practical exercises.  
Key participants 
The workshop was attended by 36 participants and included representatives from government institutions whose mandate is related to development across the agrifood, and private sectors, as well as civil society, and non-government organizations, academia, development partners, and the media. 
Main takeaways 
The following challenges facing the transition to a circular economy were identified and these recommendations were made: 
Challenge 
There is difficulty in acquiring standards certification for products produced through circular economy processes.  
Recommendation 
The Rwanda Standards Board should facilitate standards certification for products produced by SMEs involved in the circular economy for food systems. 
Challenge 
Access to adequate finance for funding circular economy projects.  
Recommendation 
Support is needed for SMEs to help identify and access financing opportunities for their circular economy projects. 
Challenge 
There is low community and stakeholder awareness of circular economy best practices specifically for food systems in Rwanda.  
Recommendation 
Raising awareness of benefits and opportunities in the circular economy for food is critical to transitioning to a true circular economy.  
Challenge 
There is a lack of synergy and opportunities for partners and stakeholders to learn from each other.  
Recommendation 
This can be remedied by enhancing capacity building and organizing learning sessions including study visits to learn about circular economy initiatives and best practices. 
Challenge 
There is a lack of guidelines for circular economy food systems.  
Recommendations 
Advocacy for the establishment of circular economy guidelines for food systems at a national level should be adopted.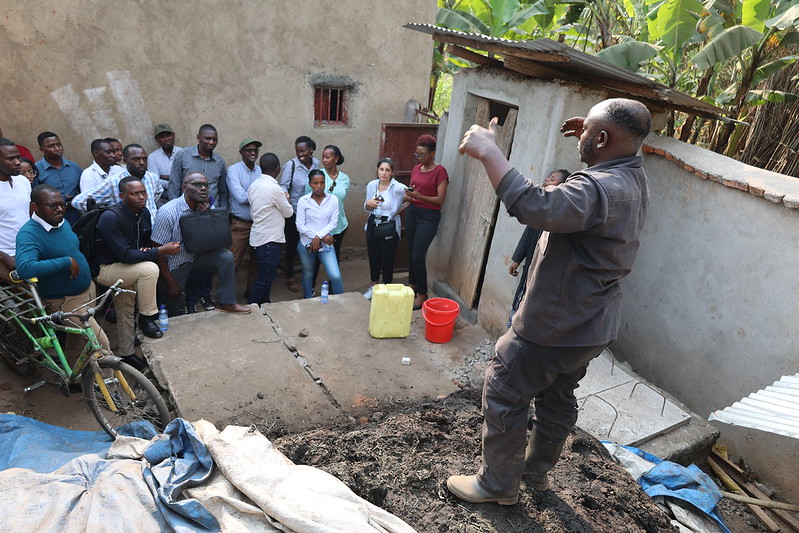 Main events 
Field visit 
On the first day, participants conducted a study tour at Golden Insect Ltd, a center that grows insects and other living macro and micro-organisms for feed, food, and other uses including the production of organic fertilizers for farming. The attendees reflected that this visit was valuable in helping them understand more closely the barriers circular businesses face and the steps to overcome them.   
Rationale for circular economy for food systems 
During the workshop, participants discussed the importance, advantages, opportunities, challenges, and limitations of circular food systems for Rwanda and beyond. Dr. Patrick Karangwa, the Chairperson of the platform, emphasized the role of circular food systems in enhancing food security and combating climate change.  
Presentations 
ACEN provided a systems overview, highlighting key concepts, and principles. Out of this came the following findings: 
Our linear food system's use of pesticides has adverse effects on health, the environment, and animal welfare,  
While oil prices, habitat loss, biodiversity decline, CO2 emissions, and post-harvest losses further compound sustainability challenges. 
Case studies and practical exercises 
The participants analyzed five case studies and completed exercises as a practical way to learn about the circular economy as a concept. The case studies demonstrated how to run a profitable circular farm, reduce food loss through processing, utilize agricultural by-products, and use insects as part of a circular economy.  
Discussions 
An extensive policy analysis was conducted to explore gaps. Through a panel discussion, partners shared their initiatives on the circular economy. SNV, and GIZ provided insights about their joint project supporting sustainable waste management and circularity in Rwanda. The Executive Director of the Center for Agro-Ecological Practices and Conservation of Nature highlighted best practices in agroecology. 
Conclusion 
The workshop successfully engaged a diverse group of stakeholders in a conversation about circular food systems, showing significant potential for Rwanda. The participants expressed interest in learning more about SMEs operating in the circular economy and the challenges they face. PACE will continue to support the project in measuring, evaluating, learning, and communications workstreams. 
---