GIIN 23: A Summary
Article subtitle

Putting impact investing at the heart of global issues: A summary digest from the conference. 
PACE Executive Director, Ramona Liberoff attended the Global Impact Investing Network (GIIN) Forum at the Bella Center, Copenhagen, Denmark this week where she attended many panels and side-door discussions and moderated the session: Scaling circular economy solutions to radically transform our systems: Idealism versus pragmatism.
The circular economy holds immense potential for achieving significant decarbonization targets, ranging from 40% to 70%, while also addressing critical issues related to nature and society, such as the bio-economy. However, it still lacks comprehensive understanding. This necessitates greater efforts in investor education and support to unlock its opportunities. Efforts should be made to simplify the adoption of circular practices by consumers, an objective that is entirely feasible, exemplified by companies such as Grover, boasting 600,000 subscribers across Europe in the tech-sharing sector.
The importance of integrated policies and co-investment cannot be overstated when it comes to developing the necessary infrastructure. Development finance institutions (DFIs) should play a more substantial role in this regard. Corporations are increasingly drawn to the circular economy model, as it encourages them to redirect resources from compliance expenditures towards innovative investments, ultimately yielding significant returns. While additional insights from the table exercise are forthcoming, we anticipate further progress in due course. Below we provide an overview of the events and some key highlights.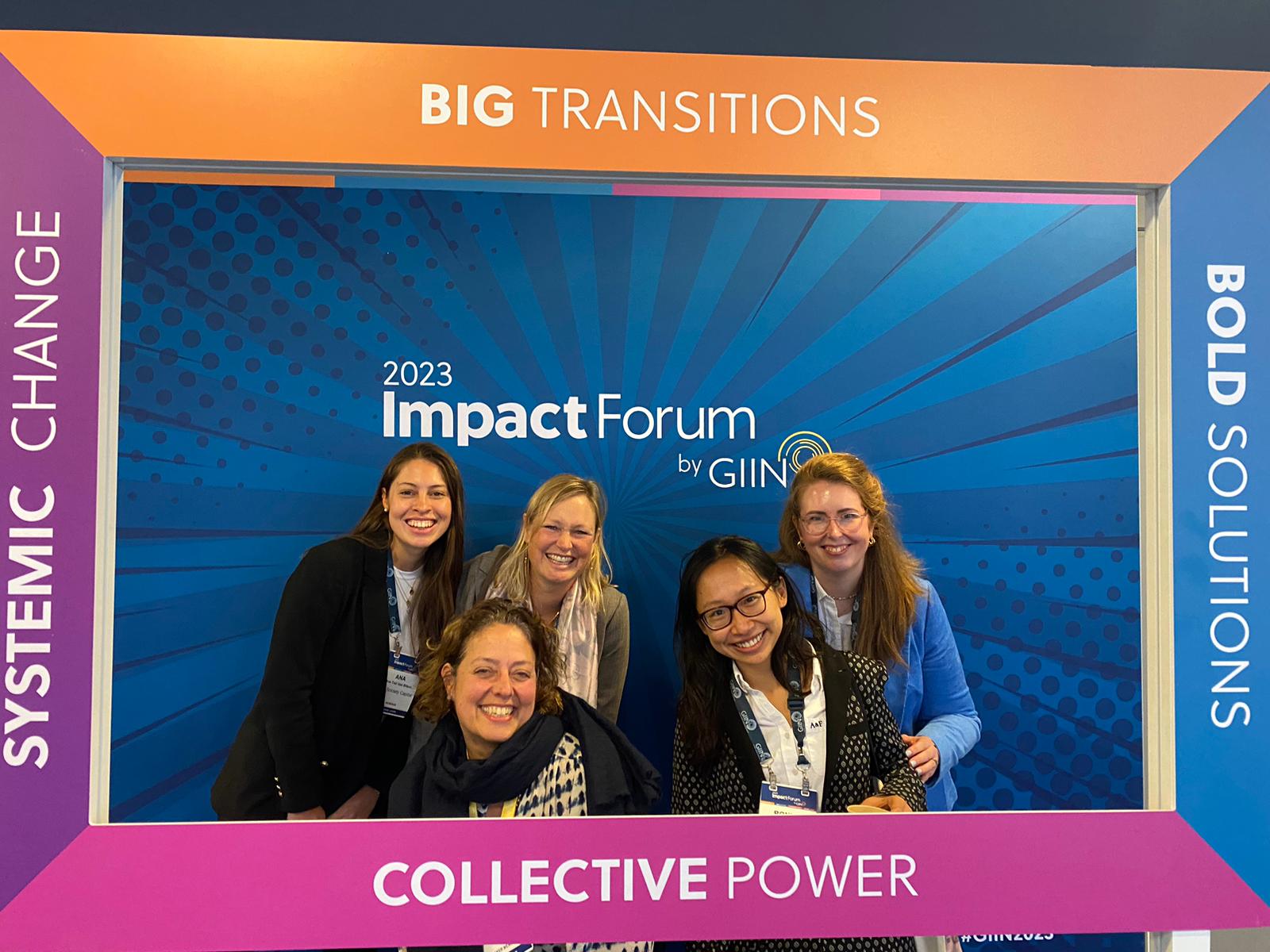 'The GIIN conference attracted more than 1,600 impact investment professionals: those who invest in funds (known as limited partners), those who create and run funds (known as general partners), asset owners and asset managers of all types, and advisors.
Impact investing is more aspirational than ESG and has grown sharply in recent years, though the concept of investing for more than the best financial return possible still sits uneasily with many traditionally trained finance professionals.  
The core promise of impact investing is that you can earn 'good' returns (perhaps not the 'best,' which often comes at the cost of harming or exploiting the planet or people) while still doing 'good' (creating positive social or environmental outcomes). It is still early days and far from mainstream, though regulation and reporting (as with many areas) are creating greater transparency and more concerted action from investors particularly in Europe.
The conversations were wide-ranging: from discovering the vibrant impact investing landscape in India, including significant investments in themes such as water and UNICEF's new 'child lens,' to shifting the culture and skills of investors to think in a broader and more systematic way about impact, to avoiding 'impact washing' and going beyond compliance to real impact.
For circularity, a key takeaway is that there needs to be a far better understanding that this shift will affect all sectors and that innovations such as alternative material substitution, to advanced recapture or recycling, to the bio-economy, present significant opportunities to investors as well as a world where policy and subsidies are not yet in the main supportive of this thematic area.' – Ramona Liberoff.
Key Highlights
The conference has grown substantially over the last few years and has experienced an annual attendance growth rate of 100%. This year over 60% were first-time visitors to the conference which is an encouraging sign that demonstrates the appetite to understand more about impact investing is there, even if much is still unfamiliar territory to most people. It does appear that impact investing is becoming better socialized and sharper demands on public spending that go beyond ESG will undoubtedly continue to influence this uptake.

Leading Dutch Pension Fund PGGM is taking the lead when it comes to communicating how to move from 'grey' to 'green'. By investing in a livable planet they are making it clear through their investment policy to demonstrate the impact investing is investing and not a separate commitment.
One of the highlight panels included the Ikea Foundation during which it was revealed root capital statistics that highlighted only 2% of Agri-Food finance goes to smallholder farmers. Arguably the most important communities along the value chain are being left out of critical financial support and opportunities. As a whole, the sector itself only receives 4.3% of all available financial investment.
An example of how to do it well includes Polestar Capital, leaders 'bridging the finance gap for impact' by providing debt finance for high growth circular businesses in the Netherlands, itself a leading country in both the circular economy and impact investment through its pension impact policy. 
Scaling circularity and impact investment strategies and expertise is a challenge to export across borders, even within the tightly bound EU. This presents a significant barrier as the implementation strategies and frameworks needed to roll out innovations in one country will be different from its neighbor. The Carbon Cross Border Adjustment Mechanism (CBAM) is a good place to start.

Impact investment in India is making significant strides, with 23% of investment deals now aligning with Sustainable Development Goals (SDGs) 8, 9, and 10 as their primary focus. In recognition of the importance of these investments, the government of India has introduced policies aimed at bolstering social enterprises within the country. Nevertheless, there remains a substantial funding gap of 170 billion dollars that needs to be bridged to effectively meet the SDGs.

Notably, companies operating in the agricultural sector, such as Waycool, and investments in climate-related initiatives within the energy and mobility sectors are gaining considerable momentum. Additionally, efforts to promote financial inclusion for Small and Medium Enterprises (SMEs) are proving to be substantial components of India's impact investment landscape.

When considering climate investment, it is essential to adopt a holistic perspective to avoid an overly narrow focus on carbon reduction; climate investment with a small 'c'. It's crucial to ensure that the climate initiatives undertaken leave no one behind. Climate investment encompasses diverse facets, including the promotion of circularity in resource usage.

India's substantial investment in digital infrastructure has emerged as a driving force for innovation across various sectors. This development has proven especially beneficial for Small and Medium Enterprises (SMEs), as it enhances their capabilities and market reach. Furthermore, there is a notable presence of impact funds dedicated to the agricultural sector, which amplifies the relevance and significance of our work in the field of rice cultivation.
---