New Plastics Economy
1. Agree Which Plastics Can be Eliminated and Prepare the Market to Phase Them Out
2. Incentivize and Support Product Design for Reuse and Recycling of Plastics
6. Set up Functioning Collection Systems
Location
Global
Led by
The Ellen MacArthur Foundation, an international charity, committed to the creation of a circular economy that tackles some of the biggest challenges of our time, such as climate change and biodiversity loss. Driven by design, a circular economy eliminates waste and pollution, keeps products and materials in use, and regenerates natural systems, creating benefits for society, the environment, and the economy. 
Project description
Over the past four years, the Ellen MacArthur Foundation's New Plastics Economy initiative has rallied businesses and governments behind a positive vision of a circular economy for plastics. Its 2016 and 2017 New Plastics Economy reports captured worldwide headlines, revealing the financial and environmental costs of waste plastic and pollution. In the last year, it has brought together 15 leading companies committed to work towards 100% reusable, recyclable, or compostable plastic packaging by 2025. The Global Commitment takes this work to the next level – creating a global coalition of leaders with the power to prevent plastic pollution at the source.
Long term ambition of New Plastics Economy
Create unstoppable momentum towards a plastics system that works.
Context
If we don't act now, by 2040 the amount of plastic entering the ocean each year will triple, putting us well on the way to an ocean with more plastic than fish by 2050.
But we cannot simply recycle or reduce our way out of the plastic pollution crisis. We need a circular economy for plastic, in which it never becomes waste or pollution.
We must take three actions to create a circular economy for plastic: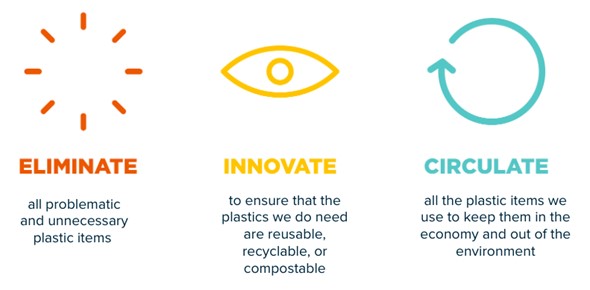 The New Plastic Economy initiative is underpinned by a common vision for a circular economy for plastic, and delivered by two key voluntary mechanisms:
By signing the

Global Commitment

, led in collaboration with UNEP, businesses and governments around the world agree to concrete 2025 targets under the vision, and transparent annual

reporting

on progress.

Through the

Plastics Pact network

, countries and regions bring together key stakeholders within their specific geographical context to drive forward a circular economy for plastic, with clear 2025 targets and annual public reporting.
Each Global Commitment signatory and Plastics Pact member formally endorses the vision and the need to work towards achieving it.
Towards a UN Treaty on plastic pollution
The New Plastics Economy initiative has created exciting momentum and is a clear signal to business and policymakers that transitioning from a linear to a circular economy for plastic is a priority. But this cannot be achieved through voluntary commitments alone. An international framework for action is needed.
In November 2020, together with WWF and the Boston Consulting Group, the Ellen MacArthur Foundation launched a call for a UN Treaty on plastic pollution, alongside a report setting out the opportunity, and a business manifesto signed by 45 leading companies.
Objectives
Through collaboration and alignment behind a common vision, achieve tangible steps towards a circular economy for plastics.
Partners
Lead Philanthropic Partner: Eric & Wendy Schmidt Fund for Strategic Innovation
Philanthropic Partner: Oak Foundation 
Initiative partners: Amcor, Borealis, The Coca-Cola Company, Danone, L'Oreal, MARS, Nestlé, PepsiCo, Unilever, Veolia and Walmart 
Contact