The Circular Economy Action Agenda for Textiles
Resource Image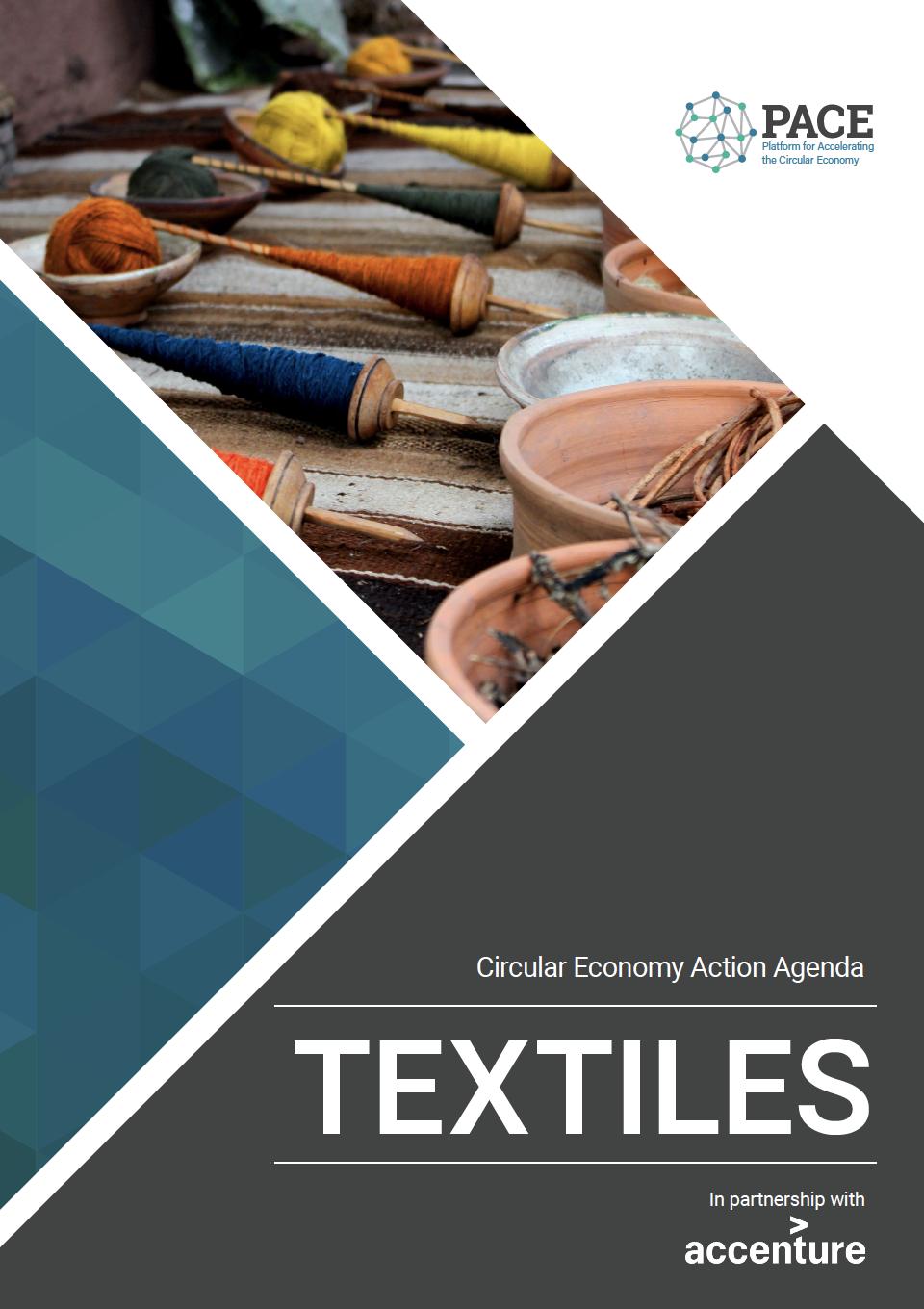 Resource Thumbnail Bg Col
#0E7B97
Make Fashion Circular
Scope
Global
Leading partner
The Ellen MacArthur Foundation is a charity which seeks to inspire decision makers across business, government, and academia to accelerate the transition towards a circular economy.
What's the ambition behind Make Fashion Circular?
Launched in May 2017, Make Fashion Circular brings together leaders from across the fashion industry, including brands, cities, philanthropists, NGOs, and innovators. It is leading international efforts to stop waste and pollution in fashion by creating a circular economy for the industry, where products (apparel, footwear and accessories) are used more, are made to be made again and are made from safe and recycled or renewable inputs.
Why is today's textile industry problematic?
The Ellen MacArthur Foundation report, A new textiles economy: Redesigning fashion's future, identifies the fashion industry's current take-make-dispose model as the root cause of its environmental problems and economic value loss, including: 
Resource use.

53 million tonnes of clothing are produced annually. More than 97% of the fibre consists of virgin - mostly non-renewable resources, including oil to produce synthetic fibres, fertilisers to grow natural fibres, and chemicals to dye textiles. 
Economic value. Every year, the industry misses out on billions of dollars through clothing that is barely worn, discarded too early and not recycled. For example, more than 73% of used clothes are incinerated or disposed of in landfills leading to USD100 billion worth of materials being lost each year.
Climate change. Global emissions from the clothing industry amounted to 1.2 billion tonnes of CO2 in 2015. This exceeds the combined footprint of all international flights and maritime shipping.
Environmental pollution. Textile production not only has a negative impact on the factory workers and their local environment, using plastic-based textiles, such as polyester, also contributes significantly to plastic microfibres leaking into our oceans.
Societal impacts. People producing clothes often suffer poor working conditions, including long working hours, hazardous work environments and low pay.
How will Make Fashion Circular transform the textiles industry?

 
Make Fashion Circular unites 60 key stakeholders, including fashion brands, municipalities, NGOs, and innovators behind a shared vision, to radically redesign the fashion industry. Projects to date include WearNext and the Jeans Redesign.
For the Jeans Redesign, Make Fashion Circular brought together over 80 denim experts from across the Denim industry, to co-developed a list of guidelines to ensure jeans can be made for a circular economy. Launched in 2019, it now brings together over 50 leading brands, who thereby commit to:
Eliminating harmful chemicals from their production process;

Produce more durable

garments

;
Design jeans in a way that they can easily be turned into new clothing.
Make Fashion Circular brings together industry leaders including Burberry, Gap Inc., H&M Group, HSBC, Inditex, PVH and Stella McCartney as Core Partners and is made possible by Laudes Foundation, the players of the People's Postcode Lottery and the MAVA Foundation.
Please see here for the full list of participants.
Circular Clothing Action Plan
To create positive impact, we have to turn global ambitions for circular clothing into tangible action points that can be taken up by local actors"  
- David Rogers, Head of International Resource Management at WRAP 
Location 
Denmark & UK 
Leading partner 
WRAP, a charity working with governments, businesses, and communities to deliver practical solutions to improve resource efficiency. 
Ambition of the CCAP project 
WRAP aims to develop global goals for a circular clothing economy and facilitate their translation into national frameworks with measurable targets. 
They focus on three long-term ambitions set out in the Ellen MacArthur Foundation's vision of a circular economy for fashion:
1) Circular Design – Clothes are made to be made again 
2) Circular Manufacture – Clothes are made from safe and renewable or recycled inputs 
3) Circular Retail – Clothes are used more 
Why do we need CCAP? 
There is an urgent need to address the catastrophic environmental impacts of Fast Fashion. The current clothing system is extremely inefficient. It is estimated that more than half of fast fashion produced is disposed of in under a year[1].  
To shift to a sustainable textile industry will require a radical re-imagining of the current linear models. Many initiatives are already trying to combat this and drive a move to a circular economy – however, they all fall short. 
Currently, there is no proven, coordinated way of delivering change that harnesses government involvement and industry leadership, connects existing initiatives, and holds them to account. 
How will CCAP facilitate the transition to a circular clothing industry? 
WRAP has an extensive track record of delivering change through the use of Voluntary Agreements. These have proven effective across multiple industry sectors and in multiple countries around the world and offer an alternative policy option to cumbersome, expensive, and inflexible legislation. WRAP has used its experience in developing these agreements to produce a 'Blueprint' to facilitate the successful delivery of national agreements across food and plastics.  
Project partner WRI has complimentary experience in both metric setting and policy engagement which underpin the successful implementation of such agreements. With funding from the Laudes Foundation (formerly C&A Foundation), WRAP will work closely with other key players in the circular fashion space to establish an effective, replicable model for national Circular Clothing Action Plans. 
What are the next steps? 
Around April 2021, WRAP will launch a 1-year pilot in Denmark translating the global agenda into a national framework and drive its implementation together with in-country partners. The following steps are planned: 
Map out existing circular clothing initiatives and define gaps 
Develop global targets 

Find an in-country partner and win the support of the national government 

Build a steering committee with important local players from across the fashion supply chain 

Define national framework in cooperation with local stakeholders 

Develop governance structure and allocate funding 
Agree on most impactful interventions and roadmap 

Establish metrics, data collection method, and reporting standard 

Run pilot in-country 

Produce a Blueprint on how to set-up a Voluntary Agreement on Circular Fashion 

Evaluate project results and disseminate achievements and lessons learned 
A successful completion of the project will be expanded on two dimensions: 
Extend project in Denmark until 2030 

Share learning with the parallel agreement in the UK  

Replicate the project in other countries 
[1] Ellen Macarthur Foundation, A new Textiles Economy (2017) https://www.ellenmacarthurfoundation.org/assets/downloads/publications/A-New-Textiles-Economy_Full-Report_Updated_1-12-17.pdf 
Partners 
WRAP (Leading partner)
WRI
In-country partners (TBC) 
Partner Logos